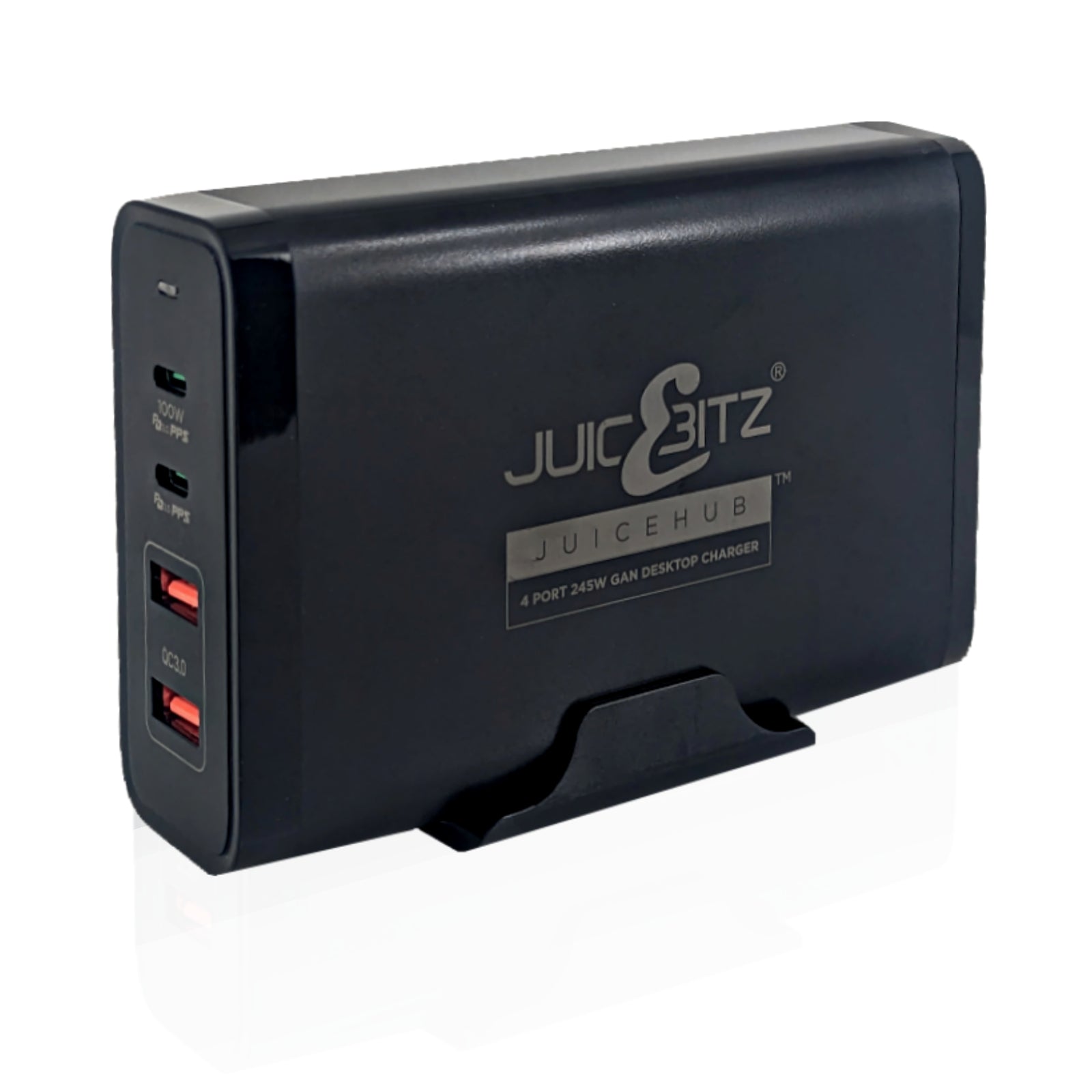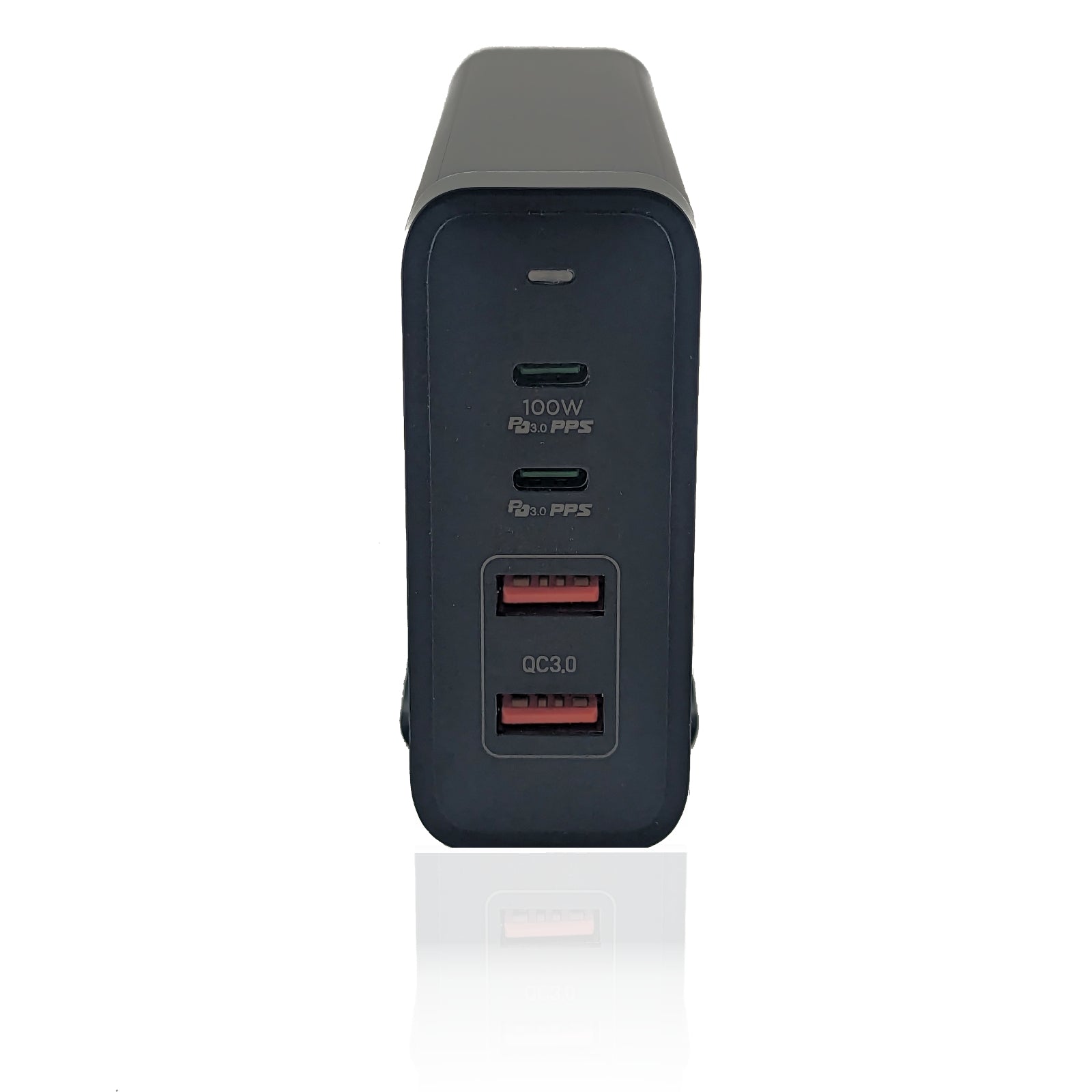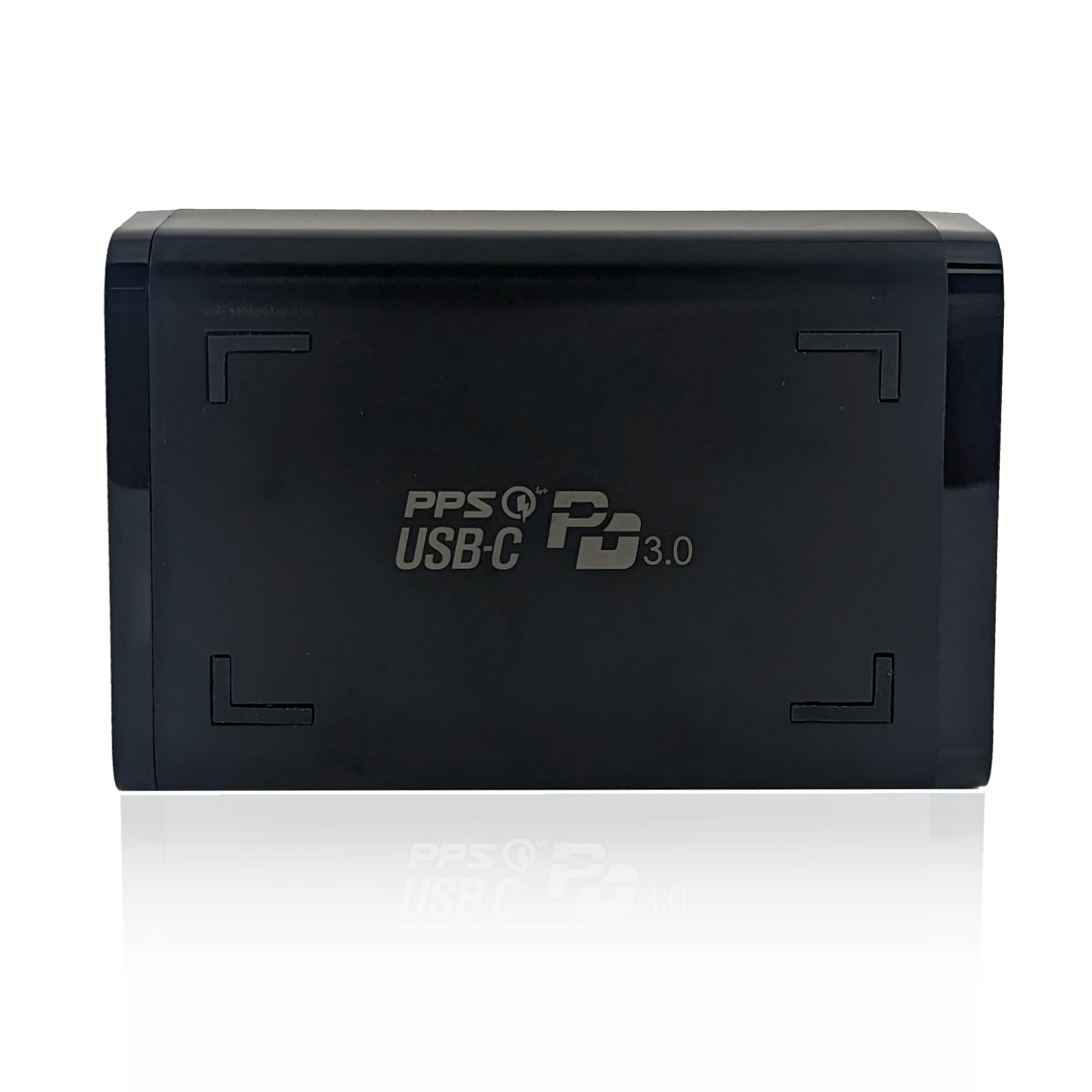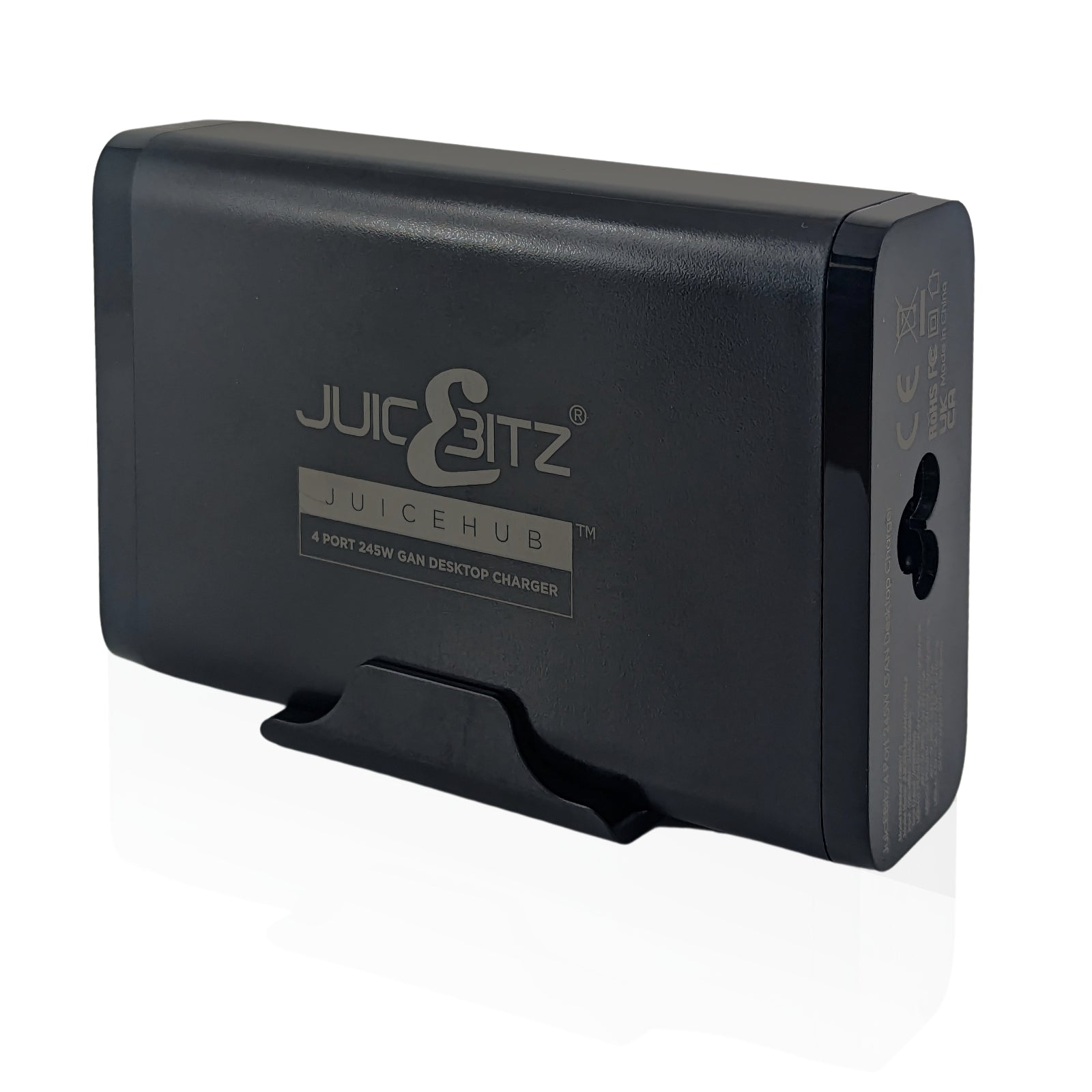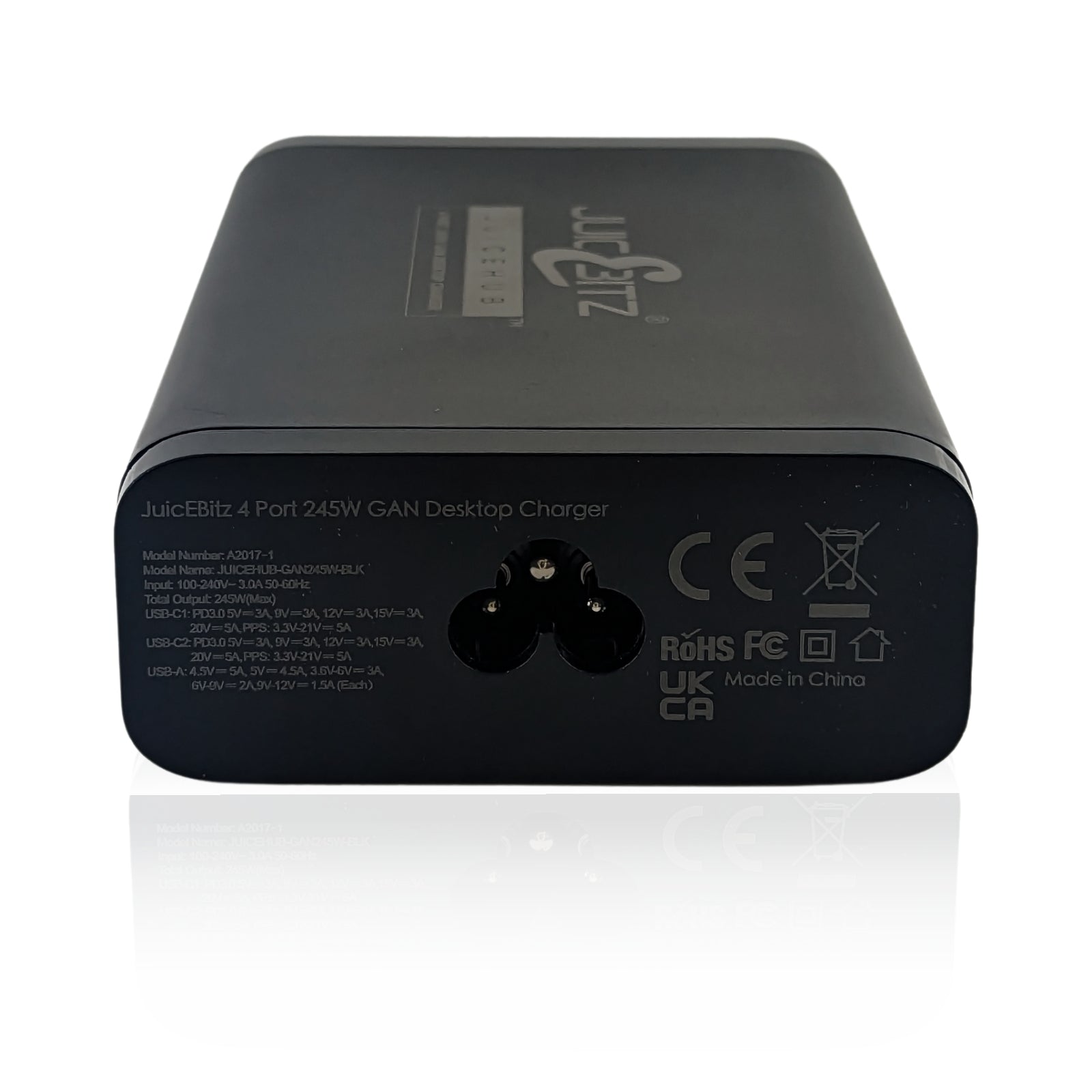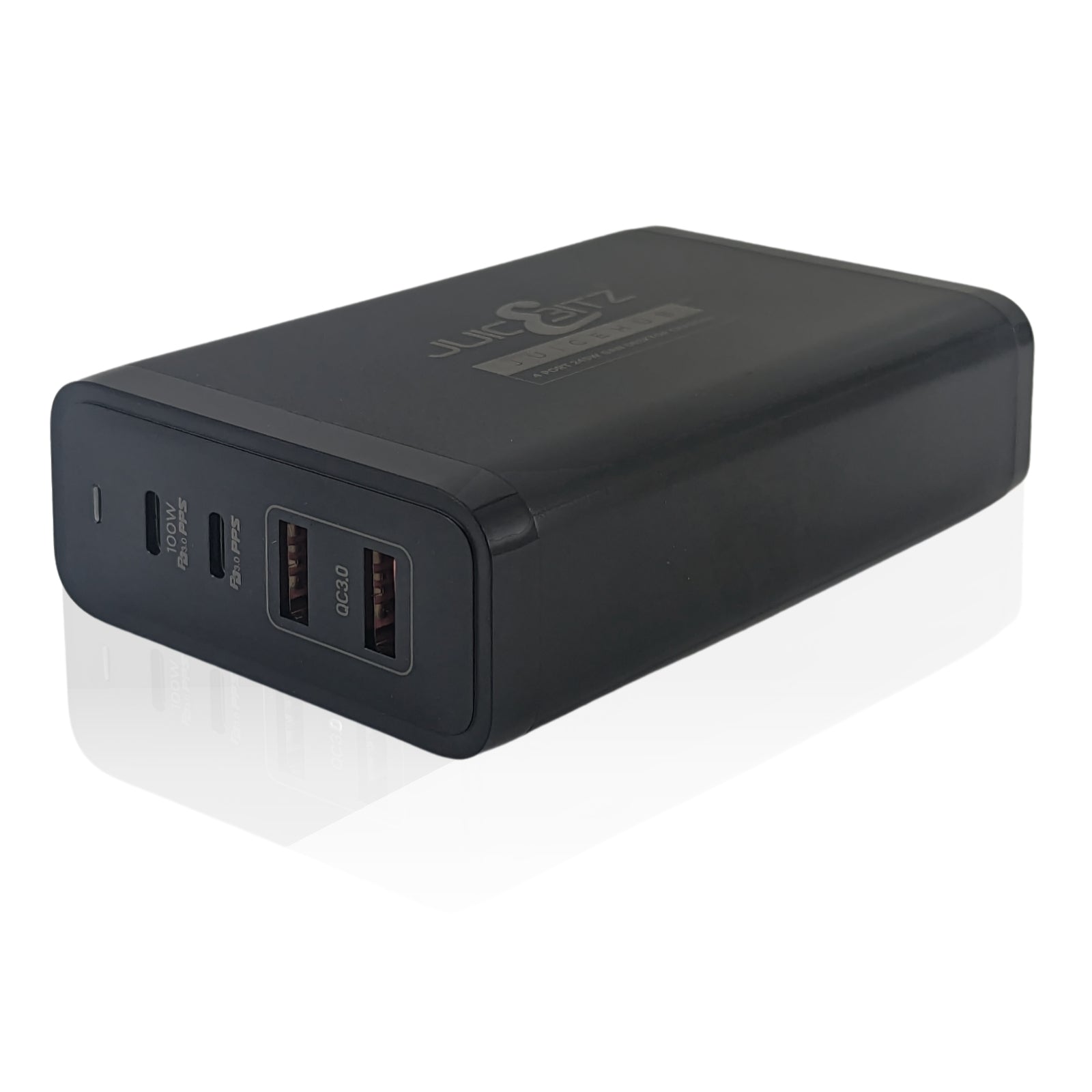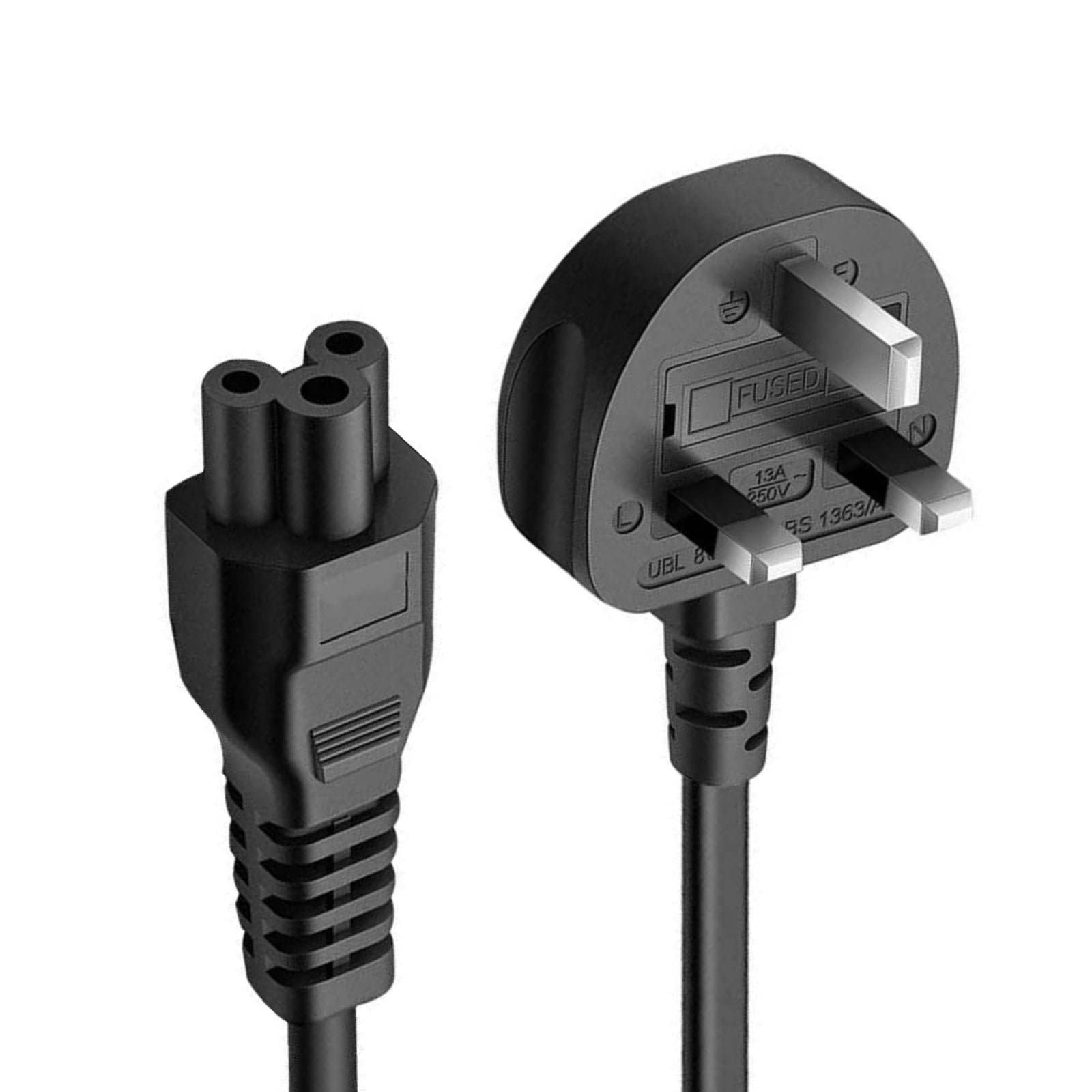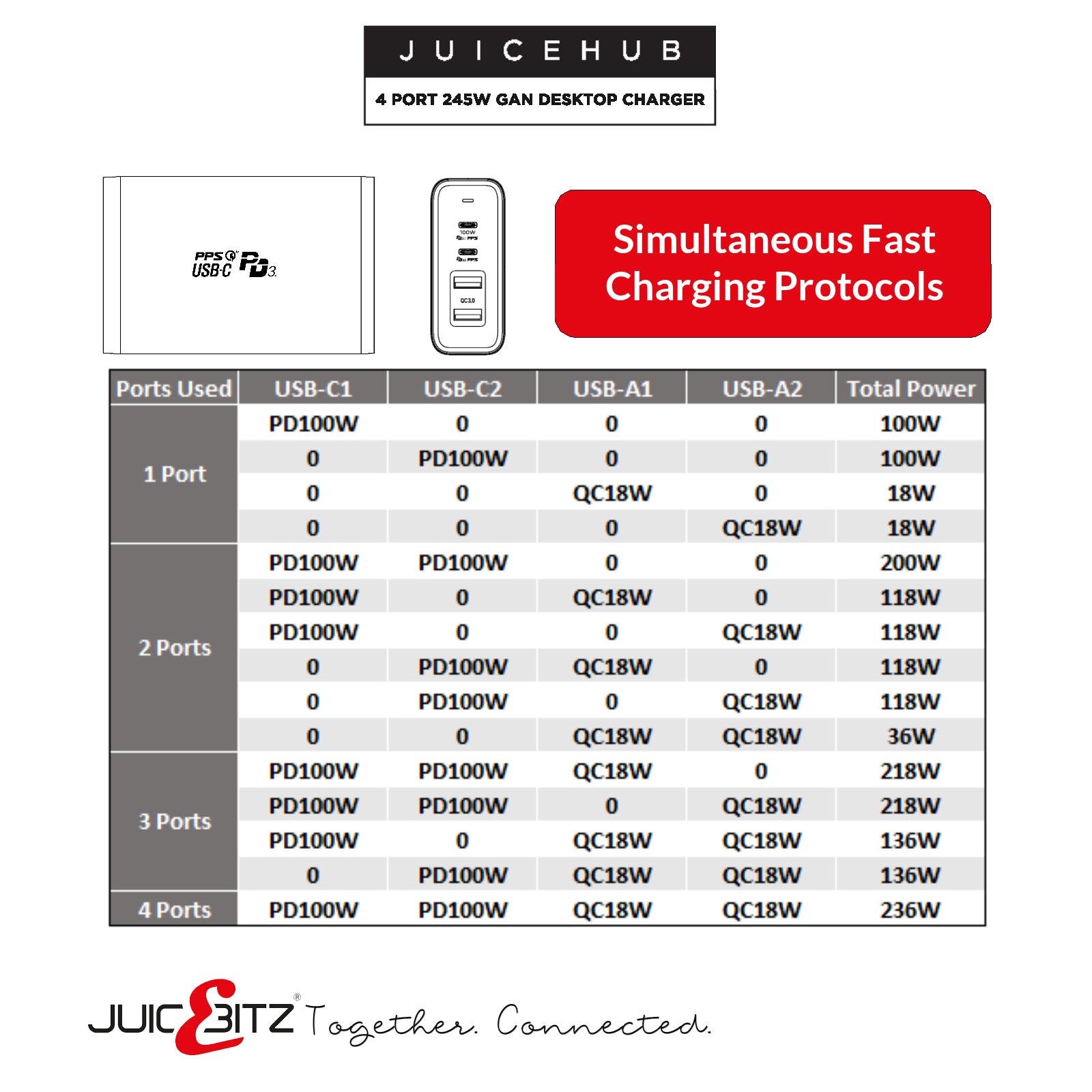 JuicEHub™ 245W GaN 4 Port Power Station Fast Desktop Charger QC3.0 & PD3.0 USB-C - Black
SKU: JUICEHUB-GAN245W-BLK
---
Our biggest and best desktop charger yet with huge potential to be the only power unit you'll need for a very long time. This will comfortably charge two laptops and two phones or tablets with ease, and fast!

With 4 x USB Ports including 2 x USB-C PD3.0 (100W max each) and 2 x USB-A QC3.0 ports this compact multi-port adapter will revolutionize your charging experience; featuring powerful and cool charging with GaN chip technology - the forefront in design and harnessing all of the power for USB charging.


What is GaN technology?

Glad you asked. It is simply smaller, more powerful and an environmentally friendly way of charging as less heat builds up in the circuitry. If you would like to know more, please read our blog post called The Power of GaN technology and the future of USB charging

What is Quick Charge?

Qualcomm® Quick Charge™ 3.0 is backward compliant with Quick Charge 2.0 and 1.0. It enables charging with compatible devices where the voltage will be switch higher and the current is lower. Fast Charging is then displayed on those devices if the function is switched on within the battery charging settings. This is also known as adaptive fast charging and is present in many modern mobile phones and tablets.

Features:


USB-C™ PD3.0 Charging - can be used for any charging protocol up to 100W, however please note that you must also use a 5A rated cable via USB-C with an E-Marker Chip (Electrically Marked Cable) to use the 60W and above range, such as our Pro Series USB-C to USB-C 100W Charger Cable.*

Quick Charge™ 3.0 - is engineered to refuel devices up to four times faster than conventional charging. It is designed to charge twice as fast as Quick Charge™ 1.0 and to be 38% more efficient than Quick Charge 2.0

Smart IC Technology - determines the optimum charging speed for all devices connected by negotiating the remaining power available and distributing this across the array of ports available.

Qualcomm License, Trademark and other Intellectual Property Rights Information: Qualcomm Quick Charge, the Quick Charge Logo and Qualcomm Snapdragon are products of Qualcomm Technologies Inc. All rights reserved.

Specifications:

Input:

 

DC 240V
USB-C1: 5V/3A, 9V/3A, 12V/3A, 15V/3A, 20V/5A (100W Max)
USB-C1: 5V/3A, 9V/3A, 12V/3A, 15V/3A, 20V/5A (100W Max)
USB-A1: 3.6V-6.5V/3A, 6.6V-9V/2A, 9-12V/1.5A (18W Max)
USB-A2: 3.6V-6.5V/3A, 6.6V-9V/2A, 9-12V/1.5A (18W Max)
Max Overall Power: 245W
Protection:

 

Over Voltage; Over Current; Short Circuit
Testing: 

Temperature test; Vibration test; Drop-Test; Over charging and discharging test

Certificates:

UKCA, CE/ROHS, FCC

, Qualcomm® Quick Charge™, USB-C

™

PD Charging
Ports:

 2

 x USB-A (QC3.0)+ 2 x USB-C (Type C for PD3.0)
Power Cable: UK 3 Pin BS1363 Fused Plug to IEC C5 3 Pin Connector
Cable Length: 1.8m Cord
Warranty: 2 Years

Instructions for use:


Simply plug and play - no drivers or software required.

1. Connect any devices and charge instantly up to the limitations and capabilities of those items connected.

NB: it is normal for other connected devices to stop and start charging again for a brief second when a new device is connected to charge. This is because it is necessary to re-distribute the remaining power and change the voltage output of the ports.

2. Please ensure that you are using the right cable for the right device. An E-Mark cable (5A) is required for charging over 45W. 3A cables can be used for up to 45W. Please see the chart and also check your manual before purchasing cables that will be incompatible with your device.

Scenario A: Samsung Galaxy S22 Ultra - can only charge up to 45W via USB-C and a 3A Cable. However, it cannot charge at 60W or 100W, because of the limitations of the phone. Using a 100W/5A cable on and only Port C-1 is not going to make it charge twice as fast, as the phone is limited to 45W max charging input.

Scenario B: Using the 3A cable on a MacBook Air will only provide up to 45W and not 60W, 89W or 100W - for this you will need a 5A E-Mark Cable. If you use a 3A cable, it will take twice as long to charge.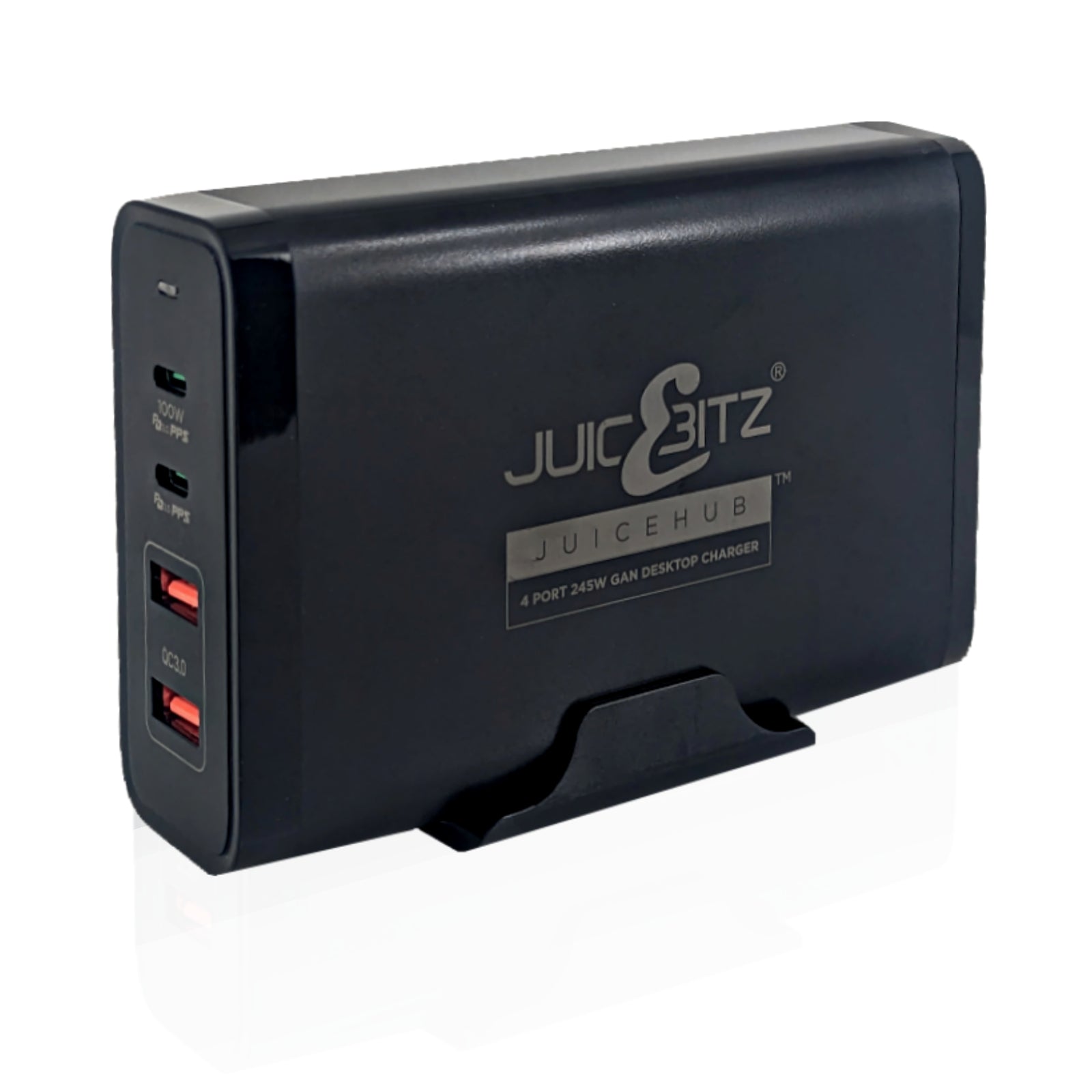 This product has no reviews yet.