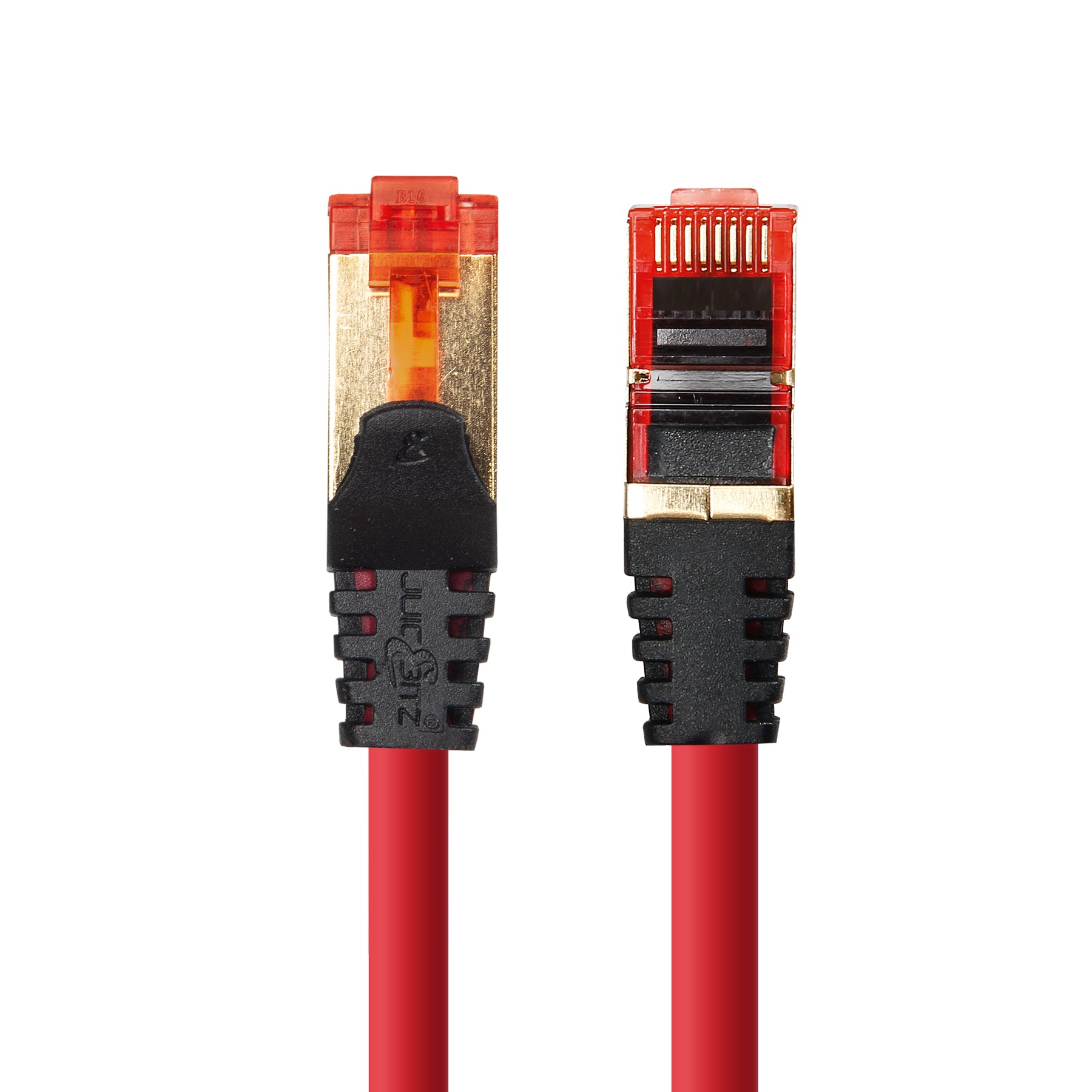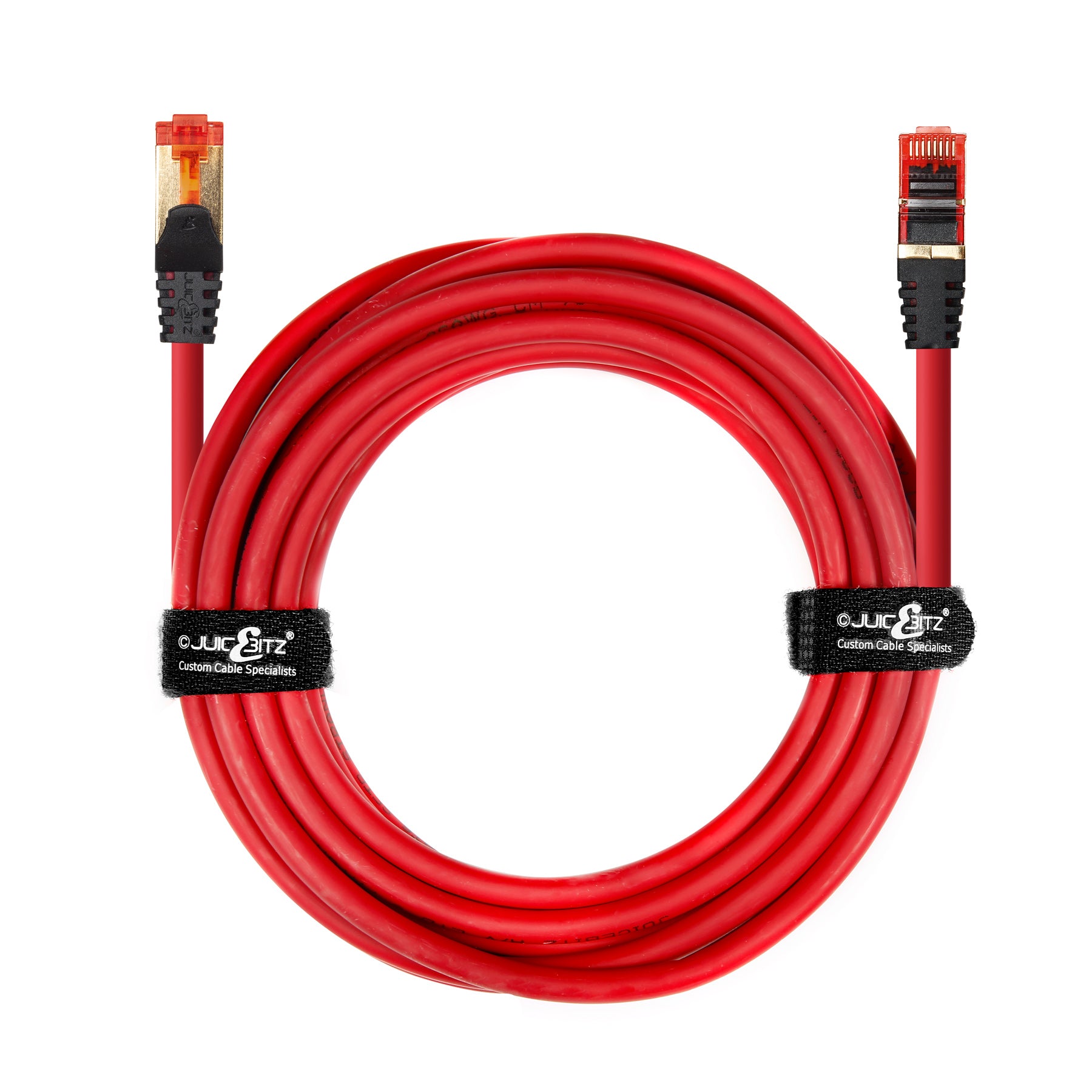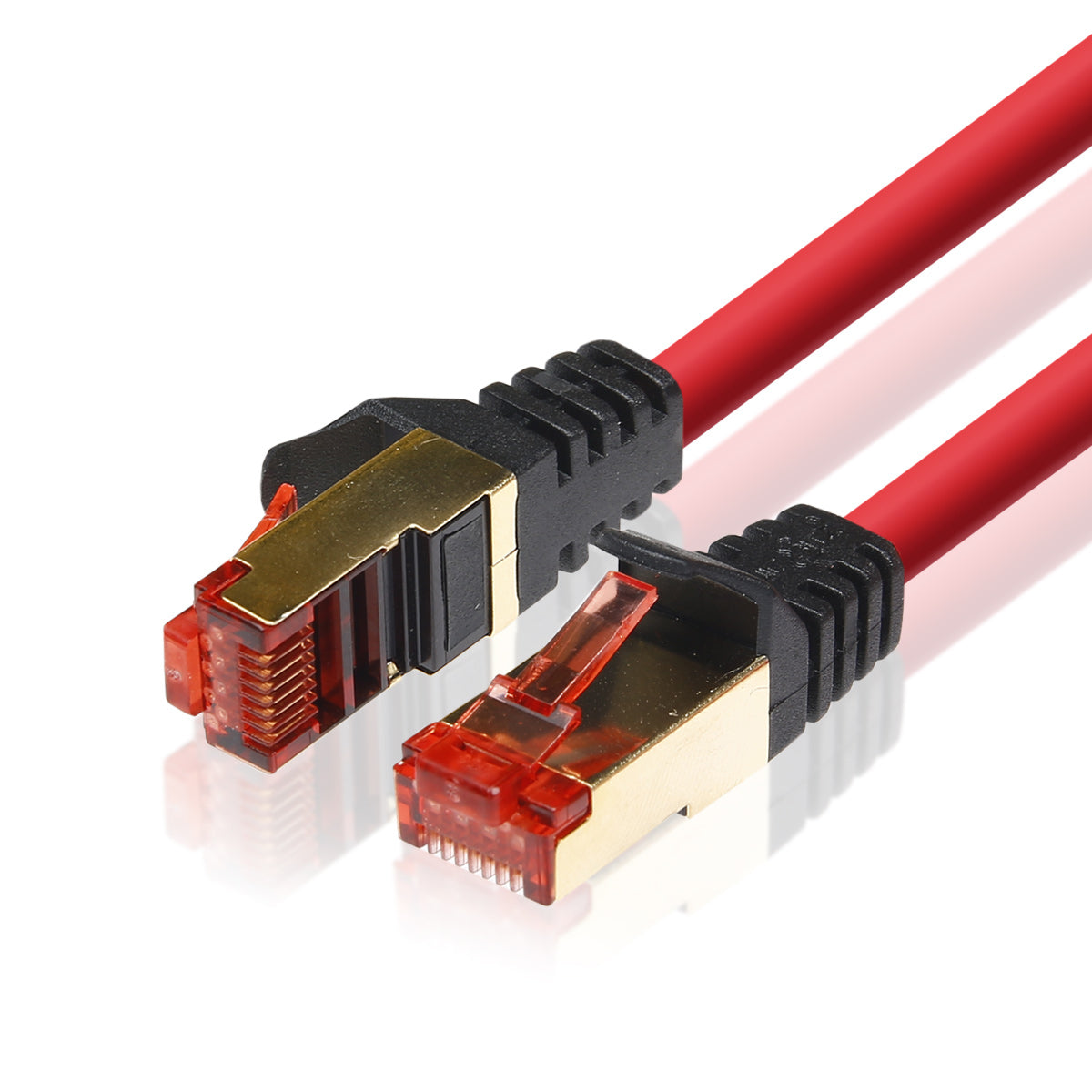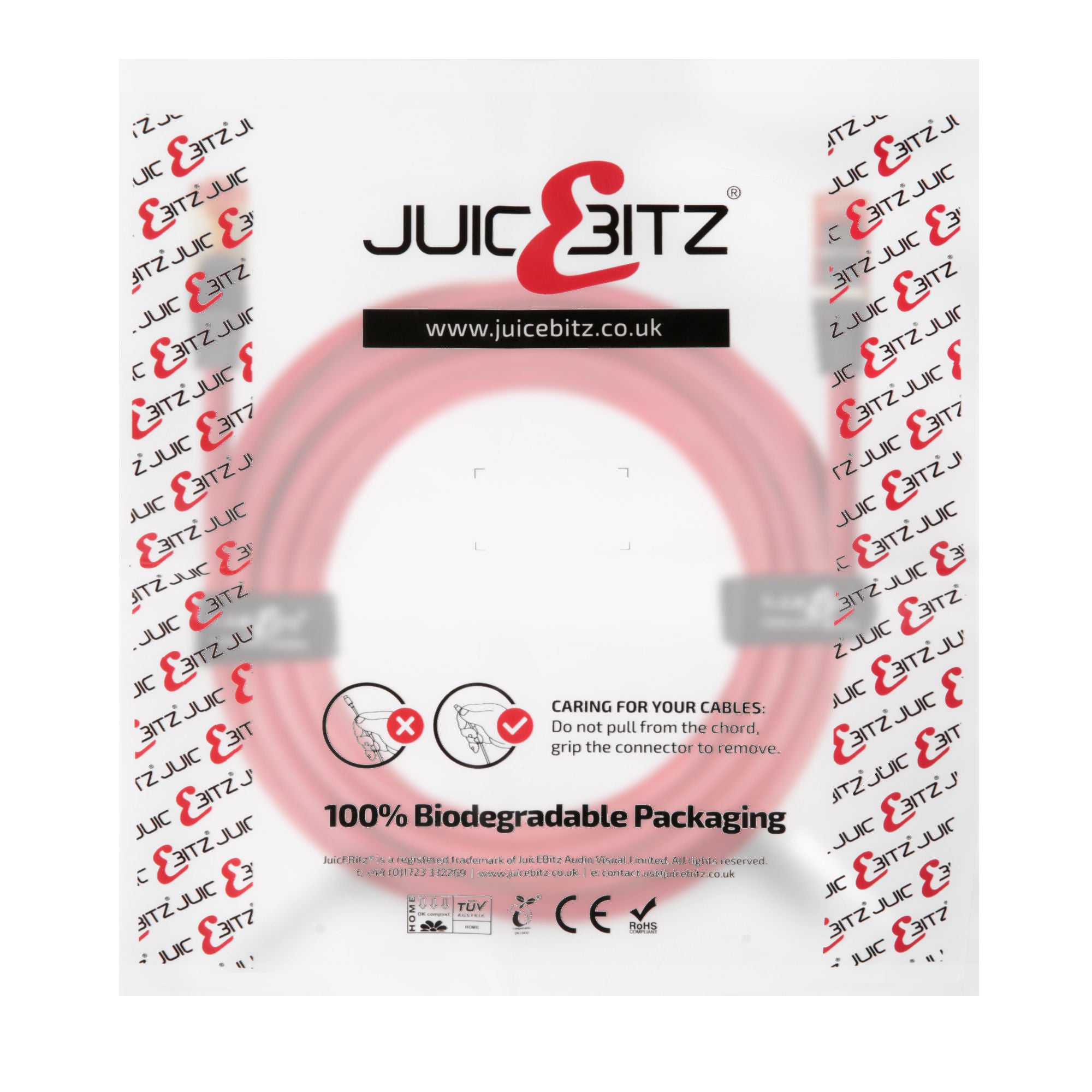 CAT6 Shielded RJ45 Ethernet LAN SFTP Patch Cable LSZH - Red
SKU: OLLV3-CAT6-LTD-1M
---
Our Premium Series Double Shielded CAT6 Ethernet networking cables provide a fast and reliable wired internet or network connection between hundreds of LAN devices; e.g computers, laptops, games consoles, routers, switches and more.




Ethernet cables are often referred to as RJ45, LAN, Network Cables, Internet or Patch Leads. With backward compliance to CAT5 / CAT5e also. Our cables are perfect for any home or office installation and come with a lifetime warranty.

Ultra-Fast Premium Double Shielded Connections

Each cable is fully shielded to effectively reduce the potential for cross-talk and interference including electronic (EMI) and radio (RMI). Not only do we use double shielding for our high-performance cables, but also

 

Low Smoke Zero Halogen (LSZH / LS0H)

 

instead of PVC for the outer sheath which means that it has enhanced fire protection performance. Low-smoke zero-halogen material is becoming very popular, and can be required when the safety of people and equipment is critical. Plus, we also add a shielded, gold plated modular connector for extra protection.

Build High-Speed Networks with Flexible, Stable Connections



Our Heavy Duty, Fully Shielded CAT6 Cables are made out of 26AWG 100% Pure Copper and a custom moulded design. A high density 6.5mm Diameter Low Smoke Zero Halogen (LSZH) cable keeps everything in place and ensures practical installations to all environments.

The CAT6 (Category 6) specification means the cables can perform with speeds of at least 1000Mbps which makes them perfect from anything such as games consoles to demanding high-speed local area networks in an office or industrial environment too. At 250 MHz, these cables are suitable for 10BASE-T, 100BASE-TX (Fast Ethernet), 1000BASE-T / 1000BASE-TX (Gigabit Ethernet), and 10GBASE-T (10-Gigabit Ethernet).


CAT6 cables also meet more stringent specifications for cross-talk

 

and system noise than CAT5 and CAT5e. The cable standard specifies performance of up to 250 MHz, compared to 100 MHz for CAT5 and CAT5e




Specifications:


Category Standard:

 

CAT6
Type:

 

Patch/LAN/RJ45 Cable
Patch Cable Technology:

 

Double Shielded Twisted Pair (D*SFTP) - compatible with all Ethernet categories including predecessors (backward compliant).
RJ45 Connectors: Male to Male

 / 

Gold Plated Shielded Metal Modular Plugs / Crystal Red
Pins:

 

Gold Plated 50 Micron
Fasteners Included: Yes, Velcro Hook & Loop
Cable Thickness:

 

6.5mm Diameter
Outer Jacket:

 

Low Smoke Zero Halogen (LSZH / LS0H)
American Wire Gauge (AWG):

 

26AWG
Conductor Material: Tinned Pure Copper
Warranty:

 

Lifetime.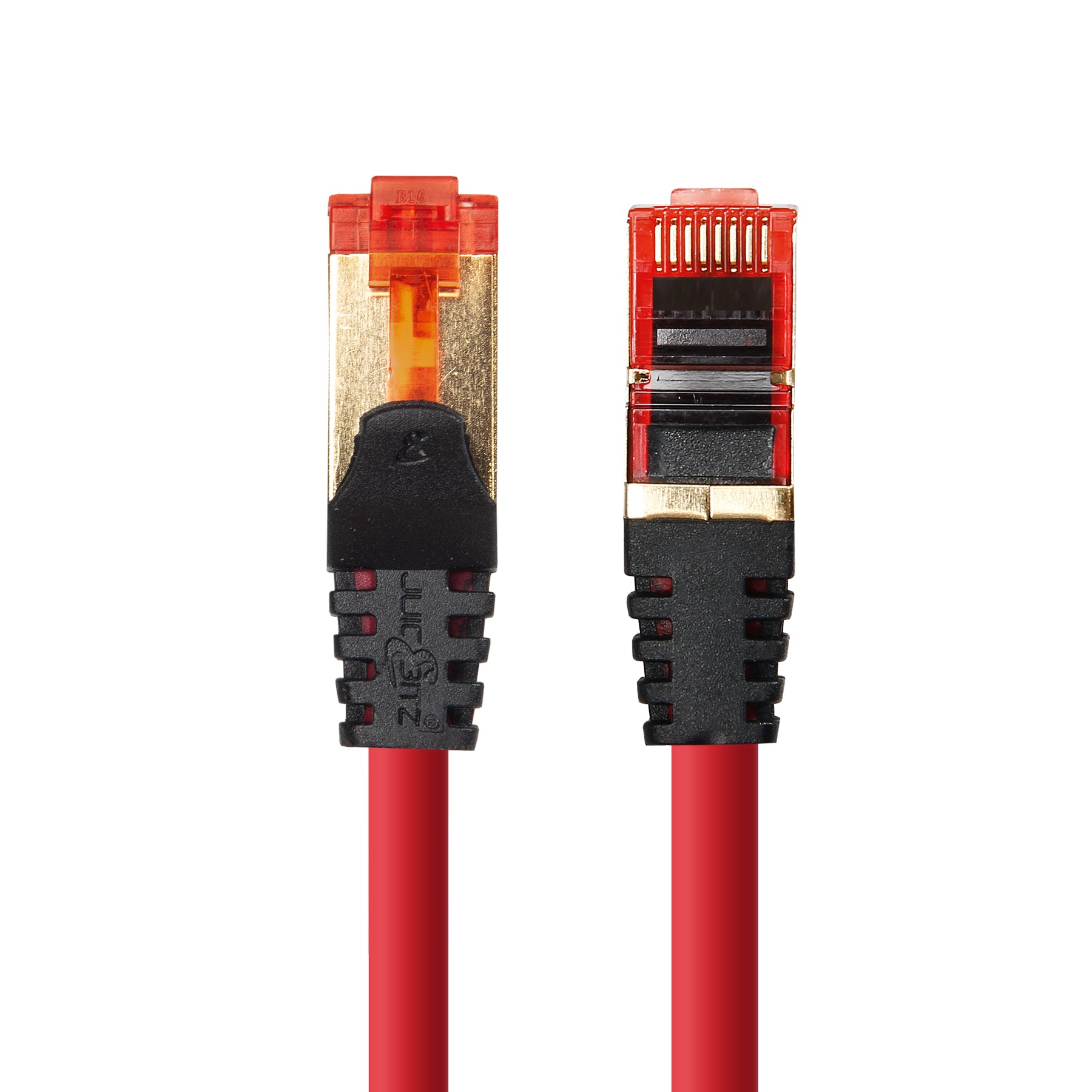 This product has no reviews yet.