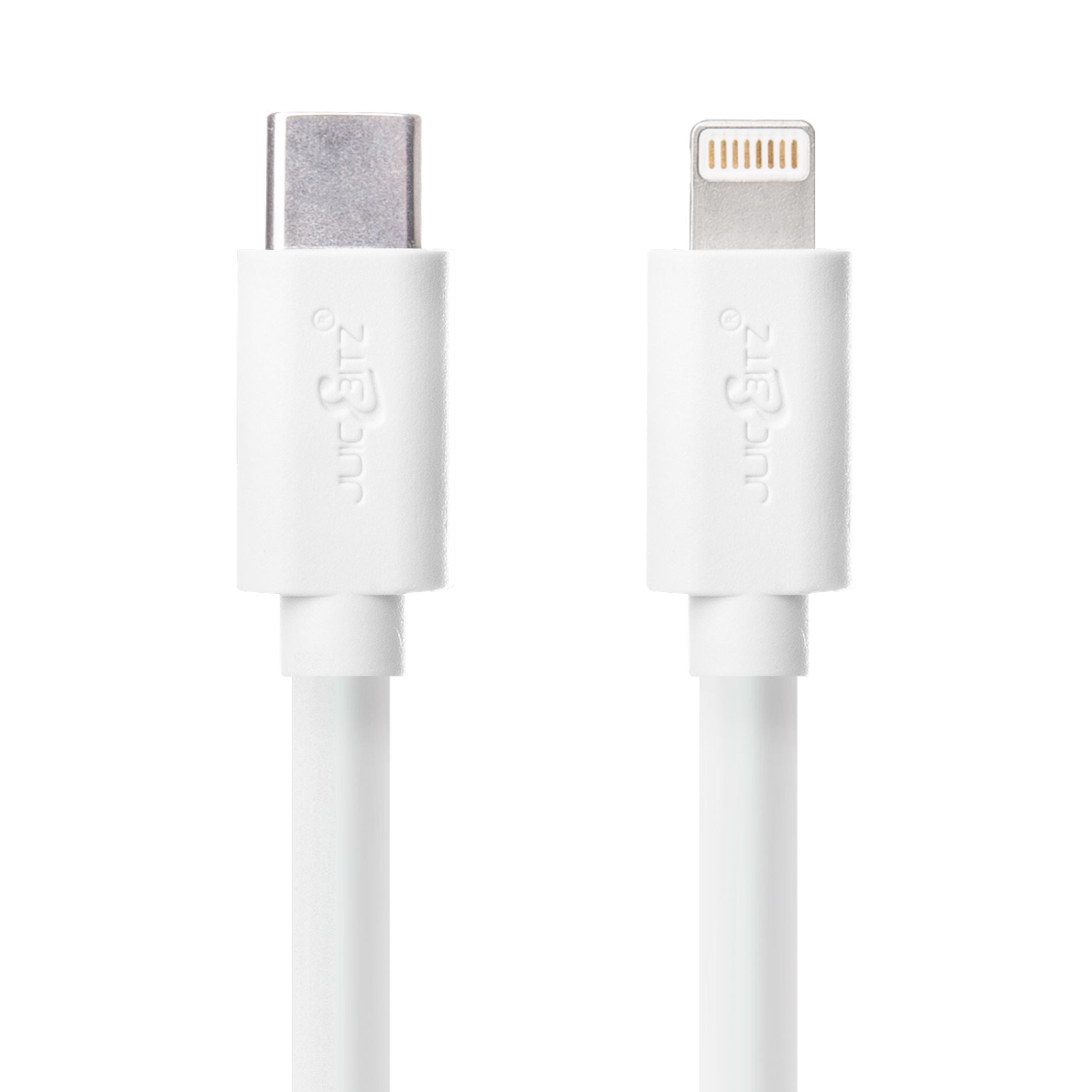 USB-C 3A Fast Charger Cable for iPhone 14 13 12 11 XR XS SE X 8 - White
SKU: TTV4-3AUSBC-8PIN-WHT-0.5M
---
Fast charging of your iPhone 14, 13, 12, 11, XS, XR, SE, X, 8 is now possible with our latest innovation.


These can also be used to charge all iPads with the standard 8 Pin connection, as well as other older iPhones when used with a USB-C charger plug.

You can also transfer data via iTunes to any USB-C enabled PC, Laptop, MacBook or similar with these cables as many computers are switching to USB-C, this is a universal and more recognised adapter.


Specifications:


Fast Sync & Charge: when used with a USB-C PD Charger <18W.
American Wire Gauge (AWG): 20C/28D (C=Charge, D=Data)

Connector 1: USB 2.0 Type-C Male (rev1.0) 24 Pin; Gold Plated Pins
Connector 2: Male 8 Pin Male; Gold Plated Pins
Conductor: Pure Tinned Copper 
Aluminium Mylar Foil Shield: 15um
Jacket: PVC 60P, Half Matt
Diameter: 4.0mm +/- 0.1mm
Certifications:

UKCA, CE/ROHS, FCC



Pull Up Resistor: Yes, 56k

Ω

Fastener Included: Yes, Velcro
Warranty:

 

18 Months.

Which iPhones support fast-charging?




The following fast-charging iPhones are not sold with a fast charger, but can be purchased separately in our store:

iPhone 8, iPhone 8 Plus

iPhone X, iPhone XS, iPhone XS Max, iPhone XR

iPhone 11

iPhone SE (2020)


The following fast-charging iPhones are sold with a fast charger:

iPhone 11 Pro, iPhone 11 Pro Max




The following fast-charging iPhone are sold without a fast charger, but come with a USB-C cable:

iPhone 12, iPhone 12 Pro, iPhone 12 Pro Max.

iPhone 13, iPhone 13 Pro, iPhone 13 Pro Max.

iPhone 14, iPhone 14 Plus, iPhone 14 Pro, iPhone 14 Pro Max.

You can fast charge your iPhone 8 and later models to 50 percent battery in around 30 minutes.




Fast charging works when you use USB-C PD Charger Cable, such as this along with one of the following adapters:

PD18W, 20W, 29W, 30W, 61W, 87W or 96W, 100W USB-C Power Adapter


All 3rd Party USB-C power adapters that support USB Power Delivery (USB-PD) are compatible.



If you're not sure which Power Adapter you have, check the wattage (output power rating) written on the charger. Multiply the Volts (V) x Amps (A) to give Power in Watts (W), if not clearly stated.




NB: You will need a 20W or higher power adapter to fast charge your iPhone 12.
NB: You will need a 25W or higher power adapter (recommended 30W) to fast charge your iPhone 13 & iPhone 14.



Compatibility:

USB 2.0 Type-C Male to Straight 8 Pin Connector Male
Supports High Speed Data Transfer up to 480Mbps
Custom Designed Injection Moulded
MUST be used with a compatible USB-C PD Charger for use and to enable the "fast charging" feature on the models listed above.
Also compatible with all previous models, but for standard charging only.
Data transfer (iTunes sync), is also still possible to another device, using this cable.

Apple License, Trademark and other Intellectual Property Rights Information:

iPad, iPhone, iPod, iPod nano and iPod touch are trademarks of Apple Inc., registered in the U.S and other countries. iPad Air, iPad Mini and Lightning are trademarks of Apple Inc. This is not an original Apple Product.

All manufacturers will state in their manuals what cable is used, or you can find the information on sites such GSM Arena or you can contact us via our contact page or call 01723 332269 and one of our advisers will be happy to help.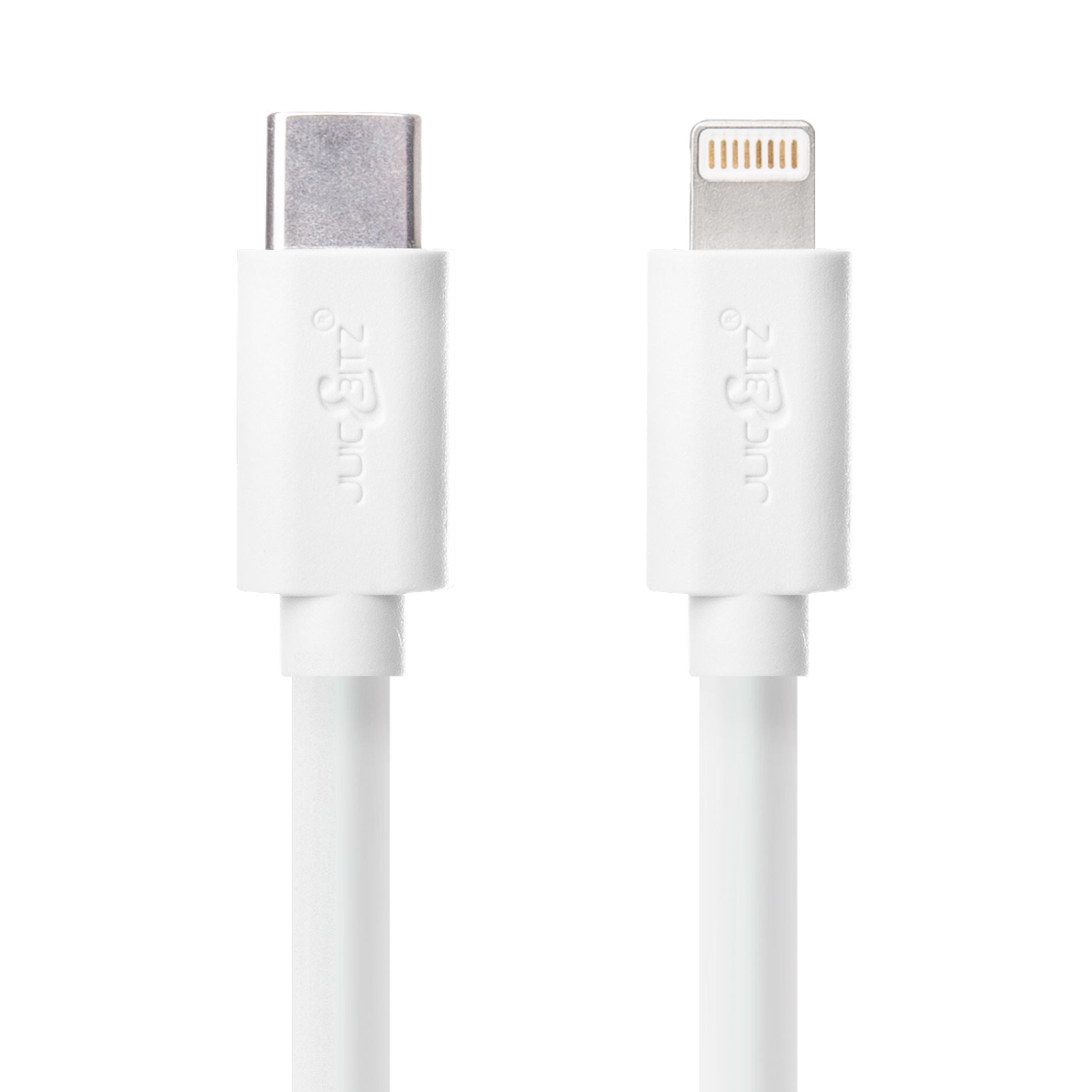 This product has no reviews yet.